Wiley AD Resources

Architectural Design, also known as AD, is a UK-based architectural journal first launched in 1930 as Architectural Design and Construction. The journal is currently published by John Wiley & Sons, and is edited by Helen Castle since 2001.
Search pointer: To discern the term "architecture" for relevant documents a Boolean strategy is advised: For example: Wiley Online advanced search: term 1 "architecture," term 2 AND "building design," term 3 NOT "software systems."

CumInCad

CumInCAD is an open access cumulative index to papers about computer-aided architectural design from journals and conferences such as ACADIA, CAADRIA, ECAADE, SIGRADI, CAAD Futures and others.
Building Green Website

A Website dedicated to informing the architecture, design, and building communities on strategies which utilize sustainable and healthy materials and construction methods.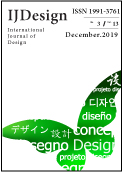 International Journal of Design (via Design Journals)

The International Journal of Design is a peer-reviewed, open-access journal devoted to publishing research papers in all fields of design, including industrial design, visual communication design, interface design, animation and game design, architectural design, urban design, and other design related fields. It aims to provide an international forum for the exchange of ideas and findings from researchers across different cultures and encourages research on the impact of cultural factors on design theory and practice. It also seeks to promote the transfer of knowledge between professionals in academia and industry by emphasizing research in which results are of interest or applicable to design practices.
The Journal of the American Institute of Architects
Current information on Projects, Tech & Products, Practice, Culture & Criticism, Awards, and Continuing Ed in the AIA community.
AR offers a vast collection of articles and reviews, competitions and awards, films and podcasts, all focused on architecture.
Architectural Histories is the international, blind peer-reviewed scholarly journal of the EAHN (European Architectural History Network) that creates a space where historically grounded research into all aspects of architecture and the built environment can be made public, consulted, and discussed. The journal is open to historical, historiographic, theoretical, and critical contributions that engage with architecture and the built environment from a historical perspective.

archINFORM is an online database about worldwide architects includes information on thousands of built and unrealized projects, emphasizing the architecture of the 20th century. Data for most entries includes name, address, keywords and information about further literature. Some entries include images, comments, links to other Websites or internal links.
Links to full text of articles from 67 open-access, peer-reviewed architecture journals.
The RIBA Catalogue indexes articles from approximately 300 architecture journals from around the world, as well as books, drawings, photographs, manuscripts, audio-visual and other material in the British Architectural Library. Also includes a biographical database of British architects.
MIT

Massachusetts

Institute of Technology
OCWOpen Course Ware
Monitor architecture courses on-line...
MIT Undergraduate course list with syllabus, readings, lecture notes, videos, and list of coarse materials...