Skip to Main Content
It looks like you're using Internet Explorer 11 or older. This website works best with modern browsers such as the latest versions of Chrome, Firefox, Safari, and Edge. If you continue with this browser, you may see unexpected results.
Research & Writing with a focus on Architectural Research
Students of architecture are required to conduct research and present their findings in accordance with standard research paper guidelines. The offerings of this page will help students meet those demands. In addition, resources are offered to further one's professional pursuits in the field.
The Research Process in Steps
Research methods generally follow this path but the order of steps is flexible:
Choose a topic - browse reference books, databases, circulating book indexes, journals, association websites, etc.
Make a list of subject terms related to your topic for literature searching. Look at thesauri in databases.
Write an outline of your paper
Decide what type of information you will need - supporting, empirical, primary, etc.
Consider the format of the information that you will use - print, electronic, video, etc.
Conduct a literature search to determine if your topic is feasible to research
Organize your information
Evaluate the materials that you found - are they relevant, credible, reliable and verifiable?
Write the text of your paper
Cite your resources
Check, check and recheck your writing and citations
Some online help for 'Architectural Research Methods'
Architectural Research Methods in Print at Fordham
Architectural Research Methods

by

Call Number: NA 2000.G76 2013 Quinn Library

ISBN: 9780470908556

Publication Date: 2013-04-08

A practical guide to research for architects and designers--now updated and expanded. This book's unique coverage of research methods is specifically targeted to help professional designers and researchers better conduct and understand research.

Research Methods for Architecture

by

Call Number: NA 2000.L83 2016 Quinn Library

ISBN: 9781780677538

Publication Date: 2016-02-16

This practical handbook provides the necessary grounding in this subject, addressing essential questions about what research in architecture can be.

Demystifying Architectural Research

by

Call Number: NA2000 .D46 2015 Quinn Library

ISBN: 9781859465783

Publication Date: 2016-01-20

This practical, hands on introduction guides you through the basics of undertaking research in day-to-day architectural practice. The text is divided into four sections focusing on different types of Architecture Research Practice; commercial, cultural, social and technology (with case studies).
Top U.S. Graduate Programs in Architecture
Local Graduate School Architecture Programs
Writing a Research Paper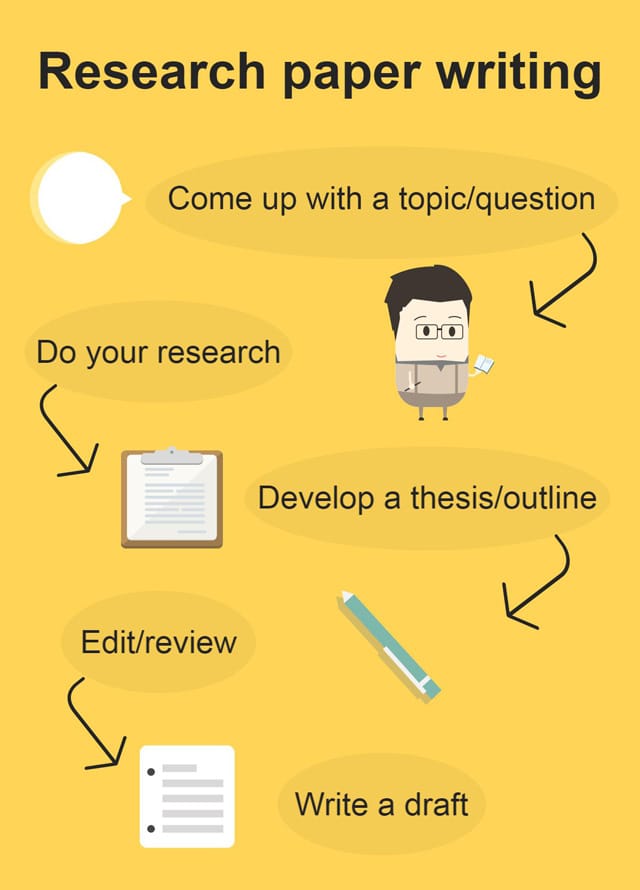 image cited from: https://custom-writing.org/blog/writing-tips/free-research-paper-writing-tips/24613.html (retrieved: 10/12/17)
Research - Observe / Analyze / Communicate (problem solve...)
https://upload.wikimedia.org/wikipedia/commons/a/ae/DSR_methodology.png (retrieved: 10/23/17)
After research & writing HELP with CITATION from some more experts...
APA Citation - Instructional Video
Research - Landscape Architecture
Landscape Architecture Research

by

Call Number: SB469.4 .D46 2011 Quinn Library

ISBN: 9780470564172

Publication Date: 2011-04-12

A practical, single-source guide to successful strategies for landscape architecture research. As the scope of landscape architecture expands to engage with other disciplines, and streams of information directing this field continue to grow and diversify, it becomes increasingly important for landscape architects to be able to implement a range of effective research strategies when seeking, creating, and validating knowledge. Landscape Architecture Research offers a framework for advancing better design thinking solutions by supplying readers with a system of inquiry tactics that open up a wider range of research possibilities.
Need Help?
AJCU - Ask A Librarian Chat!
Staffed by Fordham and AJCU librarians.
Service is available 24/7
Chat is not available on the following holidays:
Thanksgiving Day, Christmas Day, New Year's Day, and Independence Day.
Fordham Reference Text
Text your question to
71-TXTX-1284
Choose this option for short, simple questions
Available only when the library is open
160 character max for questions
320 character max for answers
Email us: library@fordham.edu
Most questions answered within 2 business days.
Call us:
Lincoln Center Reference: 212-636-6050
Rose Hill Reference: 718-817-3586
Westchester Reference: 914-367-3061
Subject Guide Librarian
Robert Allen
Books on Research & Writing
Writing and Presenting Research

by

Call Number: EBOOK

ISBN: 1412902924

Publication Date: 2006-06-29

This accessible and wide-ranging book is an invaluable introductory guide through the choices to be made when deciding how to report research. Writing and Presenting Research covers research written as theses and dissertations; chapters, books, reports and articles in academic, professional or general media

Developing Research Proposals

by

Call Number: EBOOK

ISBN: 9780857028662

Publication Date: 2012-03-05

This book: Explores the nature and purpose of different kinds of proposals Focuses on the actual research proposed Discusses how best to carry out and structure the literature review Examines the posing and phrasing of research questions and hypotheses Looks at how methods and methodology should be handled in a proposal Discusses the crucial issues of planning, strategy and timing in developing targeted proposals.
Research - Urban Planning
Research Design in Urban Planning

by

Call Number: HT165.5 .F37 2016 Quinn Library

ISBN: 9781446294451

Publication Date: 2016-01-05

"This excellent book fills a significant gap in the literature supporting planning education by providing clear, succinct advice on the design and implementation of small-scale student research projects."
As author/developer of the Architecture & Urban Design Research Guide I am delighted to offer these links to architectural works in which I appreciate a professional and a personal connection.
Reference & Instruction Department
Reference & Instruction Department
Fordham University Libraries

Walsh Library ♦ Rose Hill Campus ♦ 718-817-3586
Quinn Library ♦ Lincoln Center Campus ♦ 212-636-6050
Fordham Westchester Library ♦ Fordham Westchester Campus ♦ 914-367-3061
library@fordham.edu ♦ text 71-TXTX-1284 ♦ Ask a Librarian (Chat)