Skip to Main Content
It looks like you're using Internet Explorer 11 or older. This website works best with modern browsers such as the latest versions of Chrome, Firefox, Safari, and Edge. If you continue with this browser, you may see unexpected results.
Research & Writing with a focus on Architectural Research
Students of architecture are required to conduct research and present their findings in accordance with standard research paper guidelines. The offerings of this page will help students meet those demands. In addition, resources are offered to further one's professional pursuits in the field.
Writing a Research Paper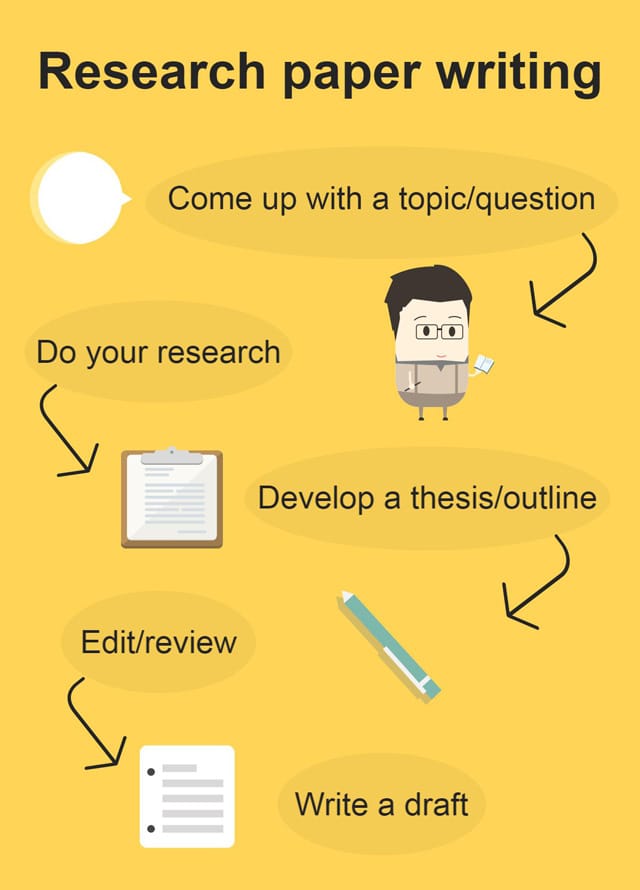 image cited from: https://custom-writing.org/blog/writing-tips/free-research-paper-writing-tips/24613.html (retrieved: 10/12/17)
Research - Observe / Analyze / Communicate (problem solve...)
https://upload.wikimedia.org/wikipedia/commons/a/ae/DSR_methodology.png (retrieved: 10/23/17)
After research & writing HELP with CITATION from some more experts...
APA Citation - Instructional Video
Research - Urban Planning
Research Design in Urban Planning

by

"This excellent book fills a significant gap in the literature supporting planning education by providing clear, succinct advice on the design and implementation of small-scale student research projects."- Chris Couch, Professor of Geography and Planning, University of Liverpool"A perfect text for supervisors to give students so that they plan their research projects carefully rather than leap headlong into data collection."- Jean Hillier, Emeritus Professor of Sustainability and Urban Planning, RMIT University, Melbourne"Highly recommended... Ranging across topics such as planning a research programme and data management and the handling of ethical issues, the book will be very helpful to those embarking on a thesis or dissertation in the field."- Peter Fidler, President of the University of Sunderland Research Design in Urban Planning: A Student's Guide is a brilliantly accessible guide to designing research for that all-important dissertation. Aimed at both undergraduate and postgraduate levels, this text will: · discuss research design, outlining the stages of the research process in clear detail and the key decisions which need to be taken at each stage · explain to students how to re-interpret policy issues as researchable questions, appropriate for investigation · look in detail at how researchers make their choice of methods, helping students to justify their own decisions · reveal the ethical dimension to such decisions in the context of a growing requirement for the ethical approval of student projects · review the issues for comparative studies - important not least because of student involvement in Erasmus programs and AESOP workshops Packed with case studies, exercises, illustrations and summaries, Research Design in Urban Planning is an invaluable resource for students undertaking their first substantial, individual investigations.

Call Number: HT165.5 .F37 2016 Quinn Library
Research - Landscape Architecture
Landscape Architectural Research

by

A practical, single-source guide tosuccessful strategies for landscape architecture research As the scope of landscape architecture expands to engage with other disciplines, and streams of information directing this field continue to grow and diversify, it becomes increasingly important for landscape architects to be able to implement a range of effective research strategies when seeking, creating, and validating knowledge. Landscape Architecture Research offers a framework for advancing better design thinking solutions by supplying readers with a system of inquiry tactics that open up a wider range of research possibilities. With a logical and innovative approach that favors legitimacy of knowledge based on collective, grounded practices, rather than strict adherence to protocols drawn only from scientific models, this comprehensive, illustrated guide produces a sound argument for establishing a new paradigm for legitimizing research quality. Landscape Architecture Research presents: Case studies that show how the range of presented research strategies have been successfully used in practice New perspective on the relationship between theory, research, practice, and critique, a relationship that is specific to landscape architecture Detailed coverage of the ways that new knowledge is produced through research activities and practical innovations in landscape architecture The first and only book on this topic of growing importance in landscape architecture, Landscape Architecture Research keeps professionals and students in step with the latest developments in landscape architecture, and delivers a dynamic and flexible game plan for verifying the integrity of their work.

Call Number: SB469.4 .D46 2011 Quinn Library
Need Help?
AJCU - Ask A Librarian Chat!
Staffed by Fordham and AJCU librarians.
Service is available 24/7
Chat is not available on the following holidays:
Thanksgiving Day, Christmas Day, New Year's Day, and Independence Day.
Fordham Reference Text
Text your question to
71-TXTX-1284
Choose this option for short, simple questions
Available only when the library is open
160 character max for questions
320 character max for answers
Email us: library@fordham.edu
Most questions answered within 2 business days.
Call us:
Lincoln Center Reference: 212-636-6050
Rose Hill Reference: 718-817-3586
Westchester Reference: 914-367-3061
Reference & Instruction Department
Reference & Instruction Department
Fordham University Libraries

Walsh Library ♦ Rose Hill Campus ♦ 718-817-3586
Quinn Library ♦ Lincoln Center Campus ♦ 212-636-6050
Fordham Westchester Library ♦ Fordham Westchester Campus ♦ 914-367-3061
library@fordham.edu ♦ text 71-TXTX-1284 ♦ Ask a Librarian (Chat)