Skip to main content
It looks like you're using Internet Explorer 11 or older. This website works best with modern browsers such as the latest versions of Chrome, Firefox, Safari, and Edge. If you continue with this browser, you may see unexpected results.
Recent Titles
Rethinking Australia's Art History

by

New York : Routledge, 2018

This book aims to redefine Australia's earliest art history by chronicling for the first time the birth of the category "Aboriginal art," tracing the term's use through published literature in the late eighteenth, nineteenth and early twentieth centuries.

Australia's Vietnam

by

Sydney, NSW : NewSouth Publishing, 2019

When Mark Dapin first interviewed Vietnam veterans and wrote about the war, he swallowed (and regurgitated) every misconception. He wasn't alone. In Australia's Vietnam, Dapin reveals that every stage of Australia's commitment to the Vietnam War has been misunderstood, misinterpreted and shrouded in myth.

Australia

by

Clayton, Victoria : Monash University Publishing, [2017]

John Rickard's Australia: A Cultural History, first published in 1988, is still the only short history of Australia from a cultural perspective. It has also acquired a unique reputation as an introduction to the development of Australian society and was listed by the historian and public intellectual John Hirst in his 'First XI: The best Australian history books'.

Gender Violence in Australia

by

Clayton, Victoria, Australia : Monash University Publishing, [2019]

In 2015, the Australian federal government proclaimed that violence against women had become a national crisis. A third of all women in Australia have been assaulted physically; a fifth of all women have been assaulted sexually.

The Far Left in Australia Since 1945

by

Abingdon, Oxon ; New York, NY : Routledge, 2018.

The far left in Australia had significant effects on post-war politics, culture and society. The Communist Party of Australia (CPA) ended World War II with some 20,000 members, and despite the harsh and vitriolic Cold War climate of the 1950s, seeded or provided impetus for the re-emergence of other movements.

A New History of the Irish in Australia

by

Call Number: (RH) DU122.I7 M35 2018

Sydney NSW : NewSouth Publishing, 2018.

Irish immigrants--although despised as inferior on racial and religious grounds and feared as a threat to national security--were one of modern Australia's most influential founding peoples.
Map of Australia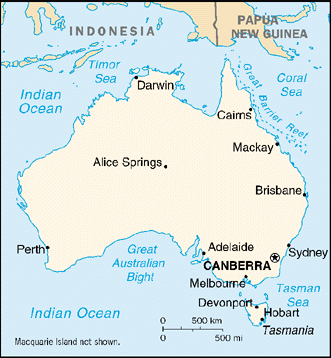 Reference Librarian
Peter Patten
Reference & Instruction Department
Reference & Instruction Department
Fordham University Libraries

Walsh Library ♦ Rose Hill Campus ♦ 718-817-3586
Quinn Library ♦ Lincoln Center Campus ♦ 212-636-6050
Fordham Westchester Library ♦ Fordham Westchester Campus ♦ 914-367-3061
library@fordham.edu ♦ text 71-TXTX-1284 ♦ Ask a Librarian (Chat)